Main Counter Features:
variety of counter styles or invisible counter
tracking option
real-time web activity
tracking and reporting
visitor stats - total hits, total unique visitors, visitors per day, projected visitors.
search engine reports - what search engines have you listed, and what keywords are sending visitors.
platforms/browsers reports - provides valuable information on surfer's screen size settings, browser, color, plugins and operating system.
set all your websites
on one account  !
BETTER YOUR BUSINESS: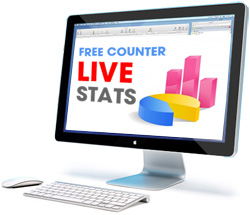 Corporate Sites

Educational Sites

Blogs

MySpace

Spaces.MSN sites

Any Other Website!


100% FREE WEB COUNTER FOR YOUR SITE
GoodCounter will track your web site's statistics around the clock FOR FREE. GoodCounter is among the best free web counters out there. Simply sign up, insert a piece of code in your web site, and watch your traffic being tracked in real time.

FEATURES:
100% Free
Several Counter Styles to choose from
Invisible Counter Tracking Option
Easy setup and installation
Completely customizable
Real-time web activity tracking and reporting
No software to install
Visitor Stats - Total hits, total unique visitors, visitors per day, projected visitors.
Referred Stats - See what sites are linked to you and how much traffic they are sending
Top Referring url's and top referring domains
Search Engine Reports - What search engines have you listed, and what keywords are sending visitors
Platforms/Browsers Reports - Provides valuable information on surfer's screen size settings, browser, color, plugins and operating system.
Visitor Profiles - Learn about your site's visitors.
Multiple Accounts allowed